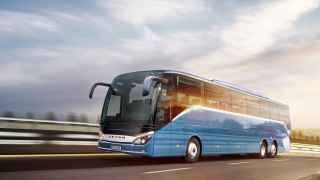 Air conditioning and COVID‑19 fact sheet with information for passengers and recommendations for drivers.
With the new COVID‑19 fact sheet, coach operators and drivers are given practical recommendations for correct operation of air conditioning systems and travel by coach. Furthermore it contains valuable information for your passengers which will increase their confidence in coach travel.
Coach passengers currently have many questions because of the uncertainty caused by COVID‑19. The issue of ventilation on board the coach plays a particularly important role. How powerful are coach air conditioning systems? How effective is the air exchange in the vehicle to prevent the spread of viruses? Coach operators can download the PDF document with the answers here and use it for their communication. Including: a practical guide for drivers concerning ventilation of the vehicle.